Archive: September 2011
by Charlotte
My oldest is smart as a tack – and observant (when she wants to be).  She is the first to notice when someone gets a haircut and the first to suspect that someone is pulling her leg.  This makes it especially fun when I pull one over on her.
After fair, my favorite passtime was to tell my oldest to go feed her pigs.  I couldn't help the gleeful joy that came with seeing her take a big breath to protest and then, upon seeing my smile, let out a, "Mooommm.  Don't do that!"  (hehehe)  I didn't want to over use this little trick, but it worked every time.  I smile just thinking about it.
One of my favorite ways of letting her know I am thinking of her at the moment is to say, "I don't like you," out of the blue.  She smiles every time.  And I usually get a rare hug from her if she isn't reading a book.  If she is reading a book, I get a "I love you too, Mom," then she goes back to reading.  She knows me.
Music is fun.  I like to listen to music when I am cooking.  I have been on a John Mayer kick lately and my oldest doesn't like him.  She calls him "pretty boy" and says he sings about his oooey goooey girlfriend all.the.time.  Her least favorite song is "Your Body is a Wonderland" followed by a close second of "Half of My Heart".  The other day I was listening to "Say" and I could tell she liked it so I pounced.  "You like this song," I asked.
"Ya," she replied and then sat down at the computer to see who was singing.  "Oh," she jumped up from the computer in disgust, "Pretty boy."
I laughed right out loud, "I got you.  See, John Mayer isn't so bad."
"Well, maybe, when he's not singing about his ooooey goooey girlfriend."  She still prefers fast songs like Zac Brown Band's "Knee Deep" or Carrie Underwood's "American Girl" and that's great with me.  I don't want her thinking about ooey gooey boyfriends that's for sure.  :)
I love that she has a sense of humor.  I love that she gets me when I mess with her.  I love that she has a dramatic approach to life (most of the time).  I love that she has a brave heart.  I love that she is growing into her role as the oldest.  But mostly, I love her.
---
by Charlotte
Chelsea tried to tell you that I am more humble about my p52 photos.  This is, unfortunately, not true.  When I have a p52 photo that I like, it appears in all of my posts for about two weeks.  :) (Just in case you missed it.)
This is my latest pride and joy.
And there is a story behind it.
I love the profile photo that Kelle Hampton uses at Enjoying the Small Things.
And I loved the silhouette that I had of one of our horses on a hill.
I love silhouettes in general.
My husband and I were talking one day and it came up that people take photos of what is truly important to them.  With that being said. I realized that I want everyone to know what is important to me by what I photograph as well.  So I told my kids that we were going to do a silhouette photo.  My oldest informed me that would be staged (and somehow less real).  I told her that it didn't matter if it was staged, I wanted a silhouette of my four kids and if I had to stage it to get it then I would.  At that point she became an active participant – bless her.  All of them were willing subjects – even the youngest.
So here it is, my staged silhouette of my kids (and my new gravatar). . . (drum roll, please).
If your computer won't show it, don't worry it will be plastered all over everything I do for at least the next two weeks.
---
by Charlotte
One of my favorite fall memories is following my dad through an aspen grove in Western Colorado.  The bright yellow leaves where scattered on the black, black soil along the trail.  The air was crisp, almost chilly and so very fresh.  The horses were feeling good and we had a good day of riding ahead of us.  I remember looking at the leaves and thinking that they looked like gold flecks had fallen off God's robe as He strolled down the path ahead of us.
On fall days, I like to close my eyes and relive the feelings and emotions of that moment in the aspen grove, where all was right with my world.  I forgot the feelings of frustration, hurt, and emptiness.  The feelings of being lost and no one there to help me.  They were all gone and, for a moment, I felt like I was following the glory of the Lord, following where He was leading me.  It was a safe feeling.  A welcome relief to the storm of emotions that were my teenage years.
I love the changing of the seasons.  I love how the cold of winter gives way to the green of spring.
How spring turns quietly into the heat of summer.  And how the heat of summer creates the abundant harvest.
And then with the changing of the wind, winter swoops in and we bundle up a little more.
Fall is my favorite of all seasons, mostly for the feelings and work associated with it.  Fall meant shipping cattle, our harvest, a time of joy.
Fall meant cool days and gathering cattle.  However, seasons change in life too and fall now means first days of school, canning, and pumpkin patches.
As much as I loved that fall moment behind my dad and the peace it brings to remember it, I love the fall moments I have now, with these characters. . .
And the joy it brings me to be their mom.
---
posted by Chelsea
Have I told you lately….
#1. That I love wheat fields?
#1.5 Buck worked for a wheat farmer while I was finishing college.  I love to look at wheat fields- I don't want us to be wheat farmers.  Nothing against wheat farmers- I'm just more of a cowgirl than a wheatgirl, that's all :-)
#2.  That our life is crazy busy.  I'm working full time!  And lo and behold!  I humbly admit that I'm the most organized I've been since we moved into this house.  I'm not even kidding.  Nothing like having a schedule to really get a few things done.  When I'm done with this stint of work (we're looking at December, folks) I'm hoping I've formed some new organizing habits.
#3. My camera has been sitting in its case for at least a week :-(  See #2.
#4. I want to do some fall baking.  Any great ideas floating around out there?!
#5. We're going to a wedding in Idaho this weekend- the first one we've been to this year. I think last year we went to 11.  Statistically speaking there has been a 90% decrease in our wedding attendance this year.  I'd prefer a happy medium– maybe 4 or 5 weddings per year…
#6.  I'm looking forward to the weekend in Idaho.  I haven't been "home" since March.  And since winter is rapidly approaching and the cows will be coming home soon…. we won't be going anywhere until Spring rolls around.
#7.  That's all.  Have a great day.
---
by Charlotte
I was given my great-grandmother's photo album.  Since I showed a photo from my father's side a few weeks ago, I thought it only fair to show some from my mom's side.  (Even though our family doesn't do "fair".)
This is my great-grandmother and the camera she took these photos with.
I've looked through her photo album many times and once with my grandmother so she could give me some history of her family.  As I was picking out photos for this post I noticed this photo.
I would love to know what is going on.  I also noticed this next photo and I immediately loved my great-grandmother.
In a time when most photos were serious, my great-grandmother shows she had a sense of humor.  Again, I would love to know how this photo came into being.  I would also like to point out that they all are wearing their swimsuits.
One of the photos below is me and one is my great-grandmother.
If you know anything about photo quality, copy righting, tack, fashion, or horses, it is not too hard to know which is me and which is my great-grandmother.  I love these two photos of us sidesaddle.
(The photo of me is copyrighted by a Jack S.  I am unable to read his last name and have forgetten his name if I ever knew it.  He was a photographer for the Morgan horse shows in the mountain states.  I hope he does not mind that I published it, but I wish I could remember his name to give him proper credit.  I googled to try to find him for 30 minutes.  Sorry Jack.)
Hope you enjoyed my blast from the past.
---
by Charlotte
I love these mountains/hills.
They are a constant reminder to me of so many things:  God the creator, God's sovereignty, the provision of God, the stability of God, and the Word of God ("I will lift my eyes unto the hills – where does my help come from?  My help comes from the Lord, the Maker of heaven and earth."  Psalm 121:1-2 )
This mountain is beautiful.  So tall and majestic.  So rugged and beautiful.  I could gaze at it every day.  I stand in awe, sometimes, of God's creation.  But as majestic as this mountain is, it is not eternal.  Revelation (21:1-2) says that there will be a new heaven and a new earth, the old shall pass away.  That means that this mountain (and the hills I see every day) will not be in eternity.  Nor will this ocean.
They may have been here a long time before I was born, and they may be here a long time after I'm physically gone (or they may not), but they are not eternal.
I am.
So are my kids and my husband (and every other person in the world).  I will be around when the new heaven and a new earth are brought forth.
That's just the way it is.  These mountains seem so permanent, so stable.  People seem to be but a vapor; their lives so short.  Yet people are eternal and these majestic mountains will have an end.
My kids are eternal.  So when I am tying shoes, or fixing meals, or vacuuming popcorn off the floor, I need to remember I'm doing it because I'm a part of shaping and molding eternal beings.  My work seems so menial in view of these great mountains, so mundane and inconsequential, but I get to be  a part of the foundations of four eternal people.  My work is for eternity.
So when I find myself chaffing at the idea of fixing yet another meal, wiping yet another chocolate smudge off the wall, starting yet another load of laundry, I need to lift my eyes unto the hills and remember: I work for the Creator and I get to be a part of His eternal work.
---
posted by Tonya
If you're unfamiliar with the story of Tonya's horse accident two years ago, please START HERE and THEN HERE.  Then catch up with her now RIGHT HERE….
Prior to that Labor Day accident, I was desperate to "get my act together" barrel racing. I had just bought my ICA (Idaho Cowboys Association) card for the first time in 30 years. I felt like it was finally "my turn" again. It is a long story but maybe some of you can relate- or more likely you may be in a similar position as to the one I was in:
When Dennis and I first got married… go ahead and imagine us thirty years younger…
I stopped rodeo-ing and he continued. I had a 1958 Corvette which was the car I brought into our marriage. We decided to sell it to buy a barrel horse so I could rodeo again. We bought a 2 year old at the Snaffle Bit Futurity in Reno, Nevada. Dennis decided that he wanted to put the horse in the Idaho Snaffle Bit the next year and it seemed fine with me because the horse was young and needed the training. So we entered and began the training. Dennis showed the mare that fall but he also decided to breed her that year so she foaled the following spring. The next fall we had our first child so riding went out the window for me. Needless to say I was so excited when my kids were both grown and we now had a granddaughter to that original horse, the very one that sparked my plan to rodeo some 30 years earlier. She seemed like she was going to be perfect…..
….I had a lot to learn. And there begins my story.
ICA card in hand, 2 years ago, competition began with a lot of frustration. I had been running my mare and just out of the money seemingly everywhere I went. I had a million little excuses and just felt that I needed to go compete more to get in the money. I was trying to haul 3 horses, one open and two young ones. No matter how much time and effort I put into practice or competing, things just didn't turn out. I was not satisfied with any of my performances, thinking all my racing friends were passing me by, winning everything. I would say after each run that I was leaving time on the ground. I was desperate to make my 50-year-old body work younger. Besides having competitive issues, it seemed like everything was getting in the way. I regret thinking that work, as well as home and family, were being blamed for my lack of success. Even God seemed in the way. I felt that if I wasn't so involved at church I could compete on Sundays. I resented missing races!!!! I was tied down with all this responsibility in all the wrong places, poor old Tonya .I was so single-minded and off base that it is no wonder I was stopped in my tracks and forced to look up.
To make matters worse, I didn't voice any of these concerns. The only one miserable was Tonya. Until …. I was flat on my back, what was left of it, looking into the sky and finally remembering to thank God for the blessings that I had and what was important in life. It was then that I realized fully that the most important thing in my life was Jesus. I couldn't get Him off my mind on that hill. He surrounded me with His presence. Barrel racing wasn't even a thought then, nor was getting my own way. I could only think about how grateful I was that my family knew Jesus, too. I was in a perpetual state of thanksgiving and not whining. Jesus was changing me. Held captive by this life-threatening injury, I was filled with a sense of how BIG God is and how He is able to work out ALL things. He will do so, in spite of me or anyone else. I figured something else out: it is so much harder to live up to my own standards than God's. And He reminded me how powerless I truly am without Him. Here I was all busted up, maybe even dying, but I am perfect in His eyes because He sees me through Jesus. I am so thankful. I am eternally thankful that I don't have to work my way to heaven because I could never achieve that. Any more than placing in a barrel race every time.
Today I am so much more content with the outcomes of races. That doesn't mean I don't practice and give it my all. It means that I understand that the results are something I can not control. Praise God I'm still even racing. I feel so much more at ease about missing races because God straightened out my priorities And when things don't go the way I plan, I try to voice my needs and anxieties to Him. No more brooding. I realize I have many people who love me and want me to have the time to ride. Now I genuinely love the time I get to spend with the horses and I don't have a cloud over me if I don't get to ride. The Lord knows that both horse and rider sometimes need a break. Mostly I don't have something to prove. I just love the journey. The only day I have is today. What can I learn and how can I be a blessing to someone else? I need to keep this around and read it from time to time. I am far from perfect and have my difficulties like everyone this side of heaven.
And one of the surprises that came out of the accident is my irrepressible desire to share my story, how Jesus met me at a time when I needed Him most. When I look back and realize how undeserving I truly was, I know I have something I can share, how He touched me and healed me but more importantly, how He healed my soul. Like how He used to tell people, "Your sins are forgiven" then He healed their leprosy or restored their eyesight or made their legs walk again. He did all that for me, too. My pride lied to me, saying I was very good at saying the right things and looking the right way. But God knew and He probably used someone else to lead people to Christ. Now it is different; I am different. I know That God Lives. . He is ever present in my time of trouble. I love to share the story. I truly want everyone I know to go to heaven. I want them to know the amazing Jesus that gives you the "Peace that surpasses all understanding". Even at school, I cannot help but tell the story. Some day I might be fired for sharing my faith so openly with my class. But it will be worth it all. God's Word tells us if we are silent, the rocks and the trees will cry out in praise to Him. I won't be silenced anymore. It is such a relief to proclaim Jesus and know that He triumphs in every situation. What a Guy!!!
Now when you see me smile, you can count on the fact that it comes from my heart, a happy heart that loves the Lord Jesus. Jesus gave this smile to me. He calmed my anxious heart. I have prayed before that He would make His light so shine in me that people would see my good works and they would glorify My Father in heaven. I still pray that He is doing that. Because I can't will that in my own power. Just like I couldn't win barrel races. And to those of you still rushing around in such a tizzy, trying desperately to control things, my prayer is that the Lord doesn't have to nearly kill you to get you to surrender it all to Him. Right now. Today. If I can do it, you can too.
---
posted by Chelsea
I'm not a ratchet strap kind-a-girl.  I'm not sure if that makes sense to you, so let me explain what I mean.
Ratchet= gadget on the end of a big strap that is used to tighten down a big load, in our case hay bales.  A visual:
There is one right way to put on a ratchet strap.  There are about 1500 wrong ways.  I have tried many of the 1500 wrong ways and rarely do I achieve the right ONE.  I try to understand, I try to use logic to make sense of the "handy" strap.  BUT for some reason when Buck tries to explain to me how to feed the strap through the gadget (technical terms there) this is what I hear, "Waah Waah Waah Waah Waah Waah".  My brain makes no sense of the stupid silly thing.
One day, while hauling hay, I managed to get the strap on and then through the gadget the same wrong way three times– the same wrong way that required Buck getting out tools to fix my mess.  He said, sort of asked rather, with calm clarity "I guess I just don't understand why you can't stop trying to tighten the thing once you realize it's not working right?"  To which I had no answer except, "I hate ratchet straps".   To make matters worse I even had backup- one of the trips my friend Heidi and her kiddos came with us.  Heidi (an intelligent woman) and I attempted to put the gadget together and we even talked through it, rationalizing what we were doing.  And lo and behold Buck needed tools to fix our mess.  So… the point of my post is this:  We, that being Heidi and I, decided that me trying to figure out the ratchet strap is like Buck trying to figure out a souffle recipe.   Some things just aren't meant to be.
---
by Charlotte
I am a photographer wanna-be.  I would love to be able to take photos like this.
(photo from The Pioneer Woman)
And this.
http://joyfullyhappilyeverafter.blogspot.com/
(Sorry you will have to go to her website to view her beautiful header as I couldn't figure out how to borrow it to show you.)  :)
I like this one as well.
(photo from Life with Kaishon)
And this one.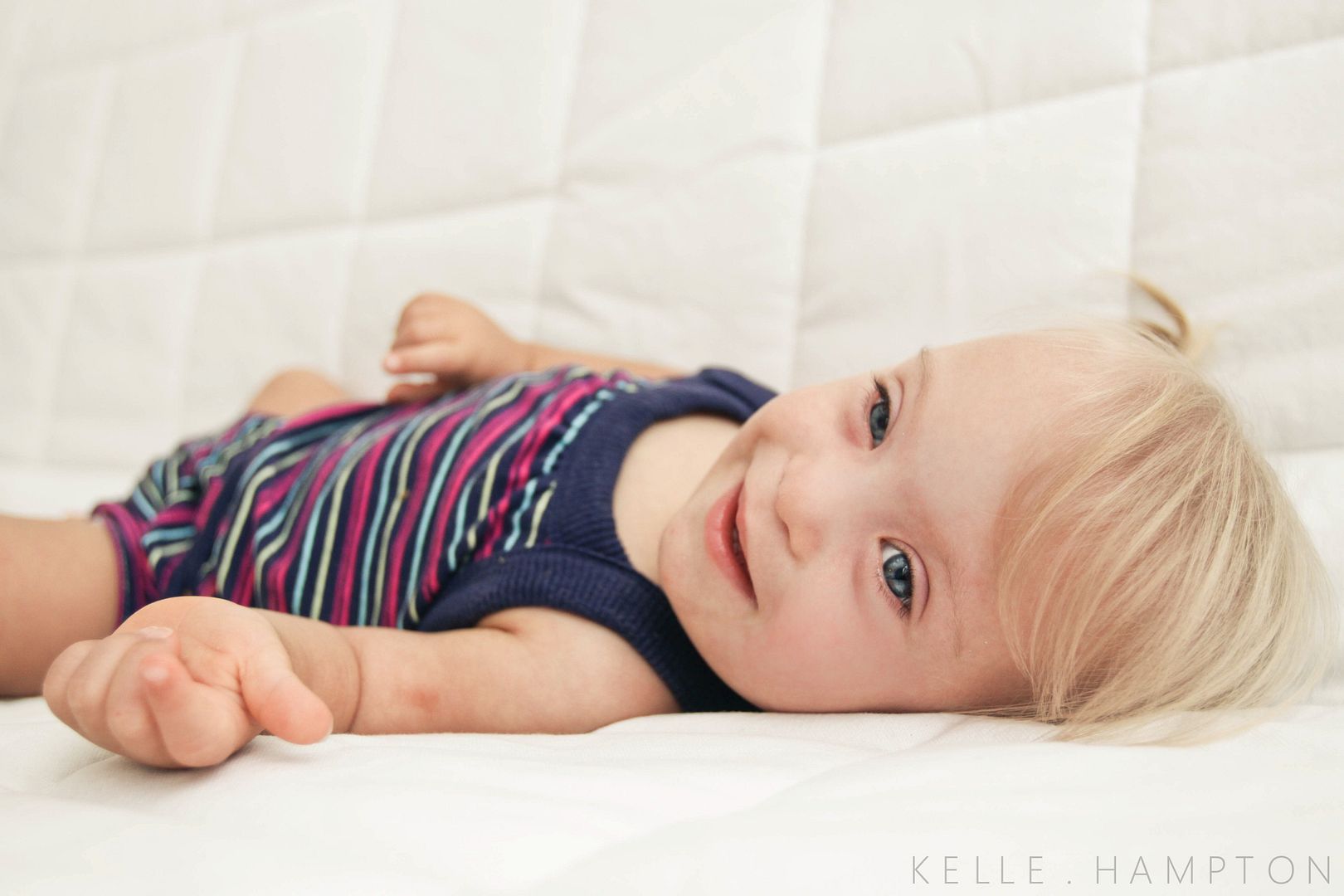 (Photo by Kelle Hampton)
I have a few photos that I'm proud of and I'm going to keep trying, keep being a wanna-be in hopes of capturing moments that will forever remind me of the beauty of being in that moment.
---
by Charlotte
My mother came for a visit last weekend.  I always enjoy her visits.  When my oldest two were little, she would bring special books to read to them.  Now she does that for the younger two.
When my oldest heard that Nana was coming, she was excited.  Then she got sad; she wanted to do something special with Nana, but there probably wouldn't be time because the visit was going to be so short.  I told my oldest I would try to think of something.
Things got crazy.  We had a 4-H thing to go to.  I had a friend call that I hadn't heard from in a while.  We had church on Sunday.  Before I knew it, Nana's visit was almost over and I hadn't come up with anything special.  Shoot.
My first thought was to bag it and make a lame excuse to my daughter as to why we couldn't do it.  But then sense got the best of me.  It won't be very many years and she might stop asking to do things with her family.  It isn't very often her Nana visits and I needed to stop being a lop and come up with something.
We usually do popcorn or cold cereal for supper on Sundays, so I searched my mind for a "special" drink.  I came up with hot chocolate, but I didn't have any mix.  Then I remembered my Hersey's baking cocoa and looked on the box – yep, a recipe for hot chocolate.  It was delicious.  Some of the best I've had.
Then I gathered every snacky, tea-time thing I could think of as well.  We had bagels with cream cheese and strawberry jam, rice krispy treats, and popcorn.  I let my daughter pick some tea cups to use and put them on my silver tray.  The youngest two had to use plastic tea cups this year.  (My oldest boy was happily playing the wii and this suited him and his sister just fine.)  We put a blanket on the ground and had us a Sunday afternoon tea hot chocolate.
We had some laughs about the cat trying to crash the party and the dog being bribed to do tricks.  We drank lots of hot chocolate, but mostly we took the time to do something special with Nana.  It doesn't have to be perfect to be good.
---